The Jeluvian Project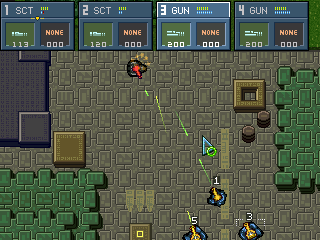 Game Screenshot
The Jeluvian Project is a game created by Pondwater.
Description
The Jeluvian Project is an action/strategy game played from "top-down" perspective. The gameplay is tactical while still focusing on the action elements; you are given multiple unit types each with different strengths and weaknesses, must utilize the environment for cover from enemy fire, and determine the least risky path through the various open-ended levels.
The game is narrated by a handful of characters who operate the tanks in the "Mission Briefing" conversations between levels as well as occasionally within the levels. These speaking parts serve as instruction for the player and also slowly reveals the story of the game which revolves around the mysterious "Hostiles" that seem to be encroaching on the player's territory.
Author's Description
A top-down squad game delivering a unique mix of action and tactics, with plenty of emphasis on the narrative. This game is comprehensive and progressive; it takes time and isn't a coffee-break sort of thing. [1]
This is not an RTS, atually. You have to shoot, reload, hit, and dodge. The focus is more on the action. You take direct control of your squad, not merely the macro-strategics: More like being a Sergeant of a squad, rather than a General of an entire army.
Still, you need to implement some strategy and tactics. You will have to decide which path your squad will take, which enemies you will attack, and how to engage them.
The first 5 levels are rather straightforward to warm you up. Level 6 onwards, you'll really have to draw from what you learnt and put your tactical skills to good use. [2]
Controls
Left Mouse Click: Primarily used for movement but also to select units and organize them into smaller tactical groups.
Number Keys: Used to call specific groups of units which the player can create and reorganize during the game.
A: Call all units at once.
Reception
The game was incredibly well-received in its GMC release with almost all comments being very positive.
It also received a spotlight review of 7.8/10 by reviewer Jabberwock on the GMG website. [3]
Achievements
The game was featured in and won three straight Cage Match events on the GMC earning it a place in the Cage Match Hall of Fame. [4]
The game was spotlighted on the GMG website for June 2006. [3]
Bibliography
External Links
Jeluvian Project on the GMC
Jeluvian Project on GMG
Jeluvian Project on PondSpark
page revision: 6, last edited:
25 Jul 2008 22:17